You'll love how our toilet flushes or we'll buy it back...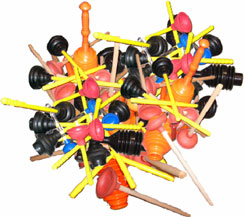 If you're tired of plunging that sluggish 'builder grade' toilet then give us a call. You can toss away your plunger just like our other happy homeowners.
Try it for 30 days and if you're not convinced that it's a better flushing toilet we'll buy it back and re-install your old one.
Add your plunger to our collection and we'll even give you $25!
Call today for more information or to schedule a convenient appointment. Soon, you too can be celebrating plunger freedom!
Call Us Today at (631) 722-2200
© 2004 Service Roundtable